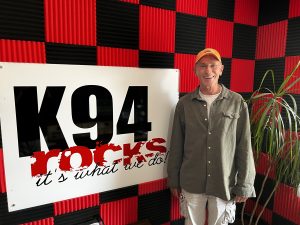 Mon-Fri | 1:00pm-6:00pm
Tune in every day for fun, laughs, trivia, ticket giveaway's and some new and classic rock you will enjoy. Terry will help get you through your day!
A Little About the One and Only Terry Booher
The Living Legend Mr. Terry Booher has been in radio for over 35 years. Although Terry is from here in Celina, Ohio, Most of his Radio experience is from the state of Colorado. Terry has known he was gonna be a Radio man since the second grade. When Terry isn't working his magic on air you can find him hosting Trivia, Out Kayaking, riding his bike or even playing disc golf. Terry is a very interesting person and we are very lucky to have him here at K94. So do yourself a solid and take and afternoon drive with the legend himself Mr. Terry Booher.